Nathaniel W. Bax (Nathan) grew up in Western North Carolina. He attended the University of North Carolina-Chapel Hill for his undergraduate degree in psychology. He then moved to Columbia, South Carolina to attend law school at the University of South Carolina School of Law. While in law school, Nathan clerked at the South Carolina Attorney General's Office, assisting in the prosecution for provider insurance fraud. After graduating law school,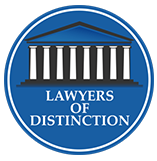 Nathan moved to Greenville, SC to work at the Foster Law Firm, LLC and he has worked at the firm ever since.
Nathan is the managing partner of ERISA and Insurance Law Department for the Foster Law Firm, LLC. He has handled thousands of ERISA benefits claims from practically every state in the country. He has handled a wide range of ERISA claims including short term disability, long term disability, health insurance, life insurance, accidental death & dismemberment, retirement/pension claims, long term care policy claims, and severance benefits. He has also handled and litigated many non-ERISA issues involving private insurance policies, non-ERISA employee benefits, such as governmental or religious company employee benefits plans, investor fraud, and FINRA arbitrations.
In his spare time, Nathan spends his time with his family enjoying all the great activities that Greenville has to offer. He enjoys taking his wife and twins to the Greenville Zoo, and the children's museum, and loves spending the wonderful southern days exploring the South Carolina State Parks.